S'IREN Water Alarm
WHY THE S'IREN WATER ALARM?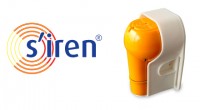 Nothing is more worrying than being close to water or ponds with small children around. Even though you feel so responsible for your little child, it still can happen, that – in a split second – you lose attention and your child is suddenly out of your sight. This could be on deck of your boat, at the marina, near the pond in your garden, the swimming pool or at the beach. A situation anyone can easily identify with.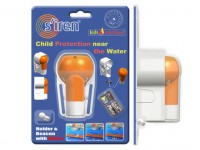 The
S'iren Water Alarm
from
Kids Nautique
gives you and others an instant warning in case of an unforeseen fall of your child into the water. With the S'iren Water Alarm you are not dependent anymore on the whistle attached to each approved life jacket. Experience shows that children do not automatically use this whistle. The S'iren Water Alarm takes it over!
Watch S'iren Water Alarm on YouTube
HOW TO USE THE S'IREN WATER ALARM?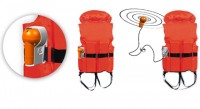 The small and re-usable device is attached to the upper arm of the child or to the belt of the life jacket your child is wearing. When your child falls into the water, a floating beacon will be released from the housing unit. Instantly an alarm in the beacon will be triggered which will produce a loud sound signal. The alarm will stay close to your child by a thin wire that connect both parts.
You and everybody else nearby your child will be immediately alerted and triggered to rescue your child from the water.
The Sea S'iren
is available postage free anywhere in Ireland for €59.95 or buy 2 for €99.95.
Please
contact
Pond Safety Systems to purchase.
For the replaceable S'iren Water Alarm tablets:
www.secumar.com